The 2014 MSP Polar Bear Plunge!
It's not just an event, it's an experience.
THANK YOU PLUNGERS AND DONORS FOR ANOTHER SUCCESSFUL PLUNGE! SEE YOU NEXT YEAR!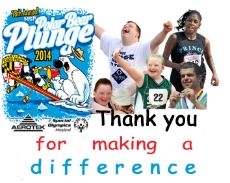 Be part of the fun
The 18th Annual Maryland State Police Polar Bear Plunge - an event that has been keeping Maryland COOL since 1997! Let the fun begin and be a part of all the chills and thrills of PlungeFest 2014 on March 8th at Sandy Point State Park. It's not just an event - it's an experience that has become a winter-time tradition for thousands of warm-hearted Plungers! And it all benefits Maryland's children and adults with intellectual disabilities, as they enjoy the life-changing benefits of participating with Special Olympics Maryland.



Remember, the Plunge has been rescheduled for Saturday, March 8, 2014.

We are working hard to provide a fun event for the rescheduled Plunge. The stage will be set up and will feature music. We will be providing a lunch for all plungers courtesy of our valued partners, Safeway, Coca Cola and Frito Lay. Additionally, we will have some prizes to giveaway including a Kayak from Rommel Outdoors. You will receive a "Giveaway" sheet at registration and upon verification of visiting five locations on the grounds you will be able to turn in the "sheet" and entered for a chance to win when we draw for the prizes The first 3,500 plungers who turn in their "Giveaway" sheet on Saturday will receive a commemorative "I PLUNGED ON!..." t-shirt. And we continue to look for ways to make the day enjoyable for all. Thank you for your continued support of Special Olympics Maryland athletes.